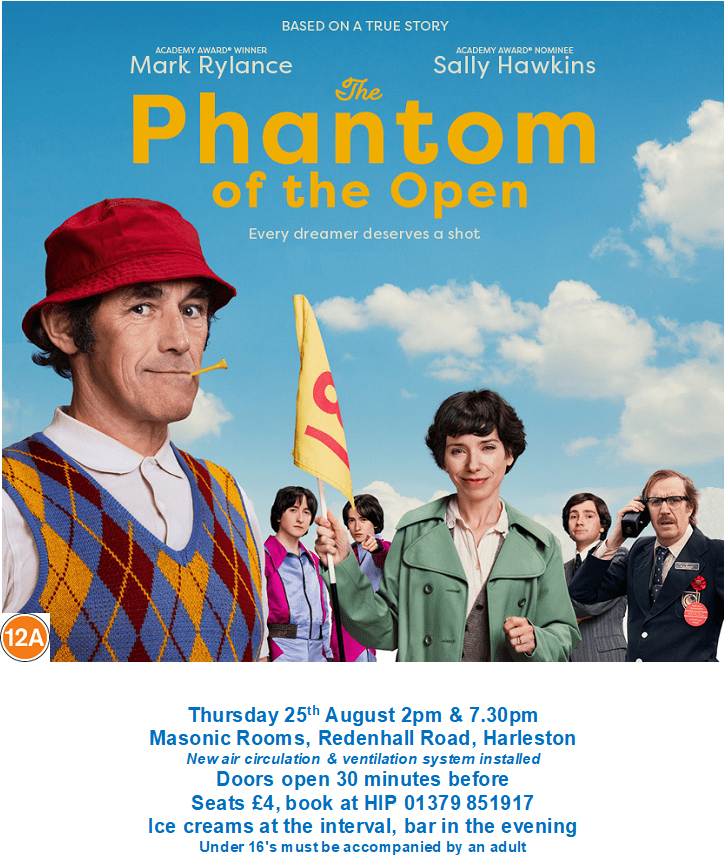 Harleston Cinema presents
PHANTOM OF THE OPEN
Thursday 25th August 2pm and 7.30pm
Masonic Rooms, Redenhall Road, Harleston
Pursuing your dreams and shooting for the stars,
no matter what hand you're dealt
This biographical comedy-drama tells the remarkable story of Maurice Flitcroft, a crane operator and optimistic dreamer from Barrow-in-Furness who, with the support of his family and friends, managed to gain entry to the 1976 British Open, qualifying despite never playing a round of golf before. With pluckiness and unwavering self-belief, Maurice pulls off a series of stunning, hilarious and heart-warming attempts to compete at the highest level of professional golf, drawing the ire of the golfing elite but becoming a British folk hero in the process.
Starring Mark Rylance, Sally Hawkins and Rhys Ifans.
Ice creams at the intervals, bar also available for the evening screening
Seats are £4, please book at Harleston Information Plus in Exchange Street, Harleston, or call 01379 851917
More information at www.visitharleston.org.uk
All required Covid measures will be taken, in accordance with current guidelines
The hall has a new air monitoring and circulation system.
Certificate 12A, under 16s must be accompanied by an adult

Follow us on Facebook and Instagram